Parallels launches Access iPad app offering remote access to Mac and PC apps
Parallels, the company that offers the popular Mac utility by the same name, enabling users to virtually run multiple operating systems without the need to create partitions or use Bootcamp, has now launched a new app for the iPad, called Parallels Access, that enables access to the users' Mac and Windows computers
.
While there are other similar apps that let you do that, Access optimises the desktop apps to run on the iPad, removing the pain point of tapping on small buttons that are designed to be used with the mouse pointer. Parallels says it "applifies your Windows and Mac applications, letting you remotely access and experience them as if they were made for iPad." It even supports tapping, swiping, pinching and scrolling PC and Mac apps, offering users the ability to use and interact with desktop apps in a manner similar to iPad apps.
Users need to download a client on their PCs or Macs and sign-in with their Parallels credentials. They need to then install the Parallels Access app on their iPad and sign-in with the same credentials to access their Mac or PC remotely.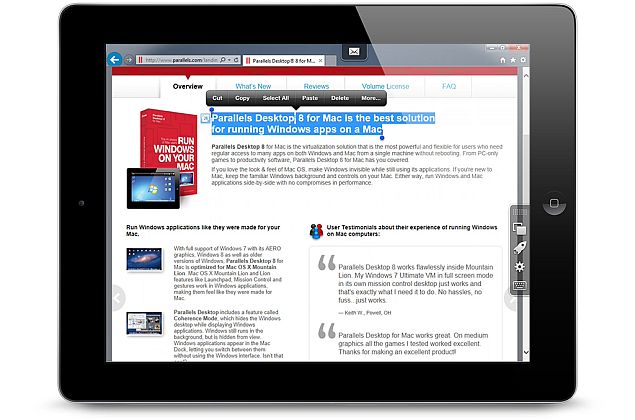 After launching the iPad app, users will be able to see their PC or Mac apps on a Launchpad like App menu, which is touch friendly and customisable. The apps open only in full-screen mode, which makes sense as the buttons and toolbars that take up extra space are usually not optimised for touch though the app also offers SmartTap to detect misdirected taps. It offers an app switcher which is a shortcut located at the right side that enables users to switch between open apps with just a tap.
It also supports iOS style copy and paste, and select and drag and allows copy pasting between desktop and iOS apps. It also offers the iOS magnifying glass for zooming in and selecting text with precision.
The app also includes a desktop keyboard complete with function keys and even a Windows key.
Parallels claims that the service works well even on low-bandwidth connections but you can experience it yourself with the free trial and sign-up if you happen to use remote desktop apps frequently. To use the service, the computer that the user intends to access via the app needs to be always turned on and connected to Parallel's Access servers.
The Access service costs $79.99 a year for one computer, though the app and computer client used for connecting to the service are free to download. Parallels is also offering a 14-day free trial to users to test the service
source :NDTV -Anupam Saxena